Advantages and Disadvantages of Inkjet Printing
There are multiple types of digital and analog printing practiced in the printing industry. Though there are a few types of digital printing, the major ones that are prominent in the industry are inkjet printing (inkjet) and electrophotography (EP). Of these two digital printing technologies, inkjet is non-contact printing and EP is contact printing. Both EP and Inkjet can be further categorized into solid toner EP and liquid toner EP,and thermal inkjet and piezo inkjet, respectively. The classification is mainly based on the type of toner used in the case of EP and the type of printhead technology in the case of inkjet. We will discuss the technologies in detail at different sections as we move along. In this section we will focus on what are the main advantages and disadvantages of analog printing and digital printing.
Analog Printing
The advantages and disadvantages listed are generic and applies to most popular analog techniques like Offset lithography, Screen printing, Flexo and Gravure printing.The schematic representing each of the above printing technology is given below.As can be seen all four of the technologies are contact printing, where the image cylinder/plate/screen comes in contact with the substrate.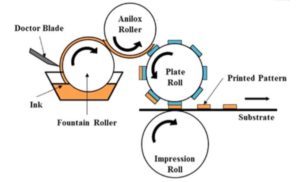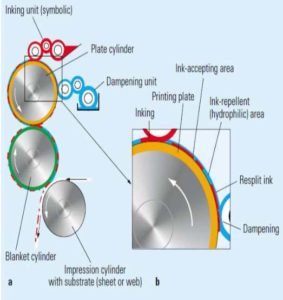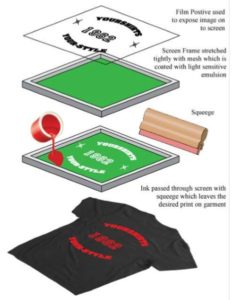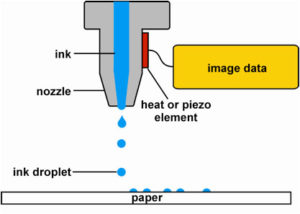 Advantages of Analog Printing
Very high printing speeds (Flexo, gravure and offset) and throughput
Excellent print quality: Offset
Very low cost printing for long run lengths
Availability of spot colors and ability to produce Pantone colors
High ink laydown and solid colors possible
Can be used print on curved substrates (screen printing)
Disadvantages of Analog Printing
High cost for short print runs
Long lead times
Management of spent plates/cylinders
Higher wastage
Large footprint of the machines
Cost per Print: Analogue vs Inkjet
The graph shows how the unit cost of printing compares for analog and inkjet printing. Analog cost continuously decrease as the run length (volume of printing) increases and crosses the inkjet cost at some run length. However, inkjet printing cost remains relatively same and is independent of run length. This is the reason why inkjet is recommended for applications where the run length is shorter.
To address the cost issue there two different types of convergence happening. The analog printer manufacturers are working to reduce the cost at lower run length and the inkjet community is working to reduce the cost per unit print by various measures. As a result of both sides working on to reduce the run length and cost, the cross-over point is moving towards lower run length and the inkjet printing cost has been decreasing.
Print Speed and Productivity
One area where inkjet and electrophotography could not match the analog printers is the speed of printing. For large throughput applications like packaging analog is the proven option due its speed and productivity. Flexo and gravure machines can print up to 3000 ft/minute speed, while the fastest inkjet machines are rated to print up to 1000 ft./minute. There are many limitation for inkjet to increase the speeds beyond the 1000 ft/min, severely limiting the throughput. Hence, it is an uphill challenge for inkjet systems to replace analog machines in applications like packaging. However, there is a global trend in decreasing run length and more customization, both of which favor inkjet printing adoption.
Advantages of Inkjet Printing
Cost of unit print remains constant irrespective of run length
Sensitive substrates can be printed (inkjet is non-contact printing)
Variable data printing
Fast set up and short lead times to production
Enables slow speed, small scale and enterprise printing
Can be combined with analog to create hybrid machines
Low wastage and low ink consumption
Solvent, UV, water based, 3D and functional printing possible
Cheaper entry level printers
Disadvantages of Inkjet Printing
Higher printing cost than analog for long run lengths
Slower speed and productivity than analog
Difficult ink technology
Poor reliability of water based inkjet inks
Limited substrates for water based inks
Though we have discussed analog printing in the simplest manner, we will start discussing inkjet printing, which is AT Inks' expert domain, from the next segment onwards.
– Dr. Pradeep K (President, R&D)